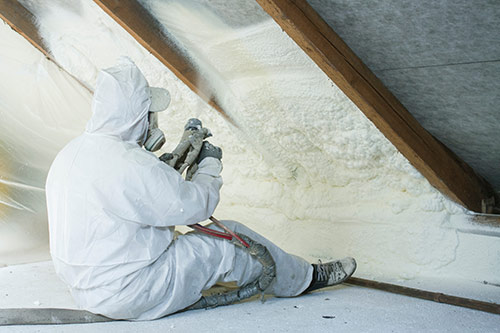 This is a reason why contractors and homeowners alike prefer spray foam insulation. Well, it works! It has been successful, and it has become a popular insulation choice for renovation projects, and even some new home builds as well. And the airtightness is achieved when installed properly. It works as a vapor barrier, and it adds a significant level of insulation to a home.
It is highly important to call a licensed insulation contractor to install this type of insulation in your home. Spray foam after proper curing is safe and will not cause any health-related problem. After the allotted time for chemical off-gassing has ended, occupants will re-enter their homes because the air is safe to breathe. There is virtually no air leak through a spray foam after it is installed. Most buildings are airtight and are great for energy efficiency. It reduces the energy needed for heating and cooling. Spray foam carries an all-in-one product for home renovation that provides insulation, air barrier plus vapor barrier and gives a very appealing product. Spray foam insulation is airtight after it has been set. Once applied it expands at a ratio of 1-100 thus creating a perfect airtight fit on any surface and this material reacts very quickly when mixed and applied on site expanding on contact to create foam that insulates, seals gaps, and forms air, moisture, and vapor barriers. It is a versatile material that seals wall cavities, exterior walls, crawlspaces, attics and small gaps and cracks through a house.
It is proven that using spray foam to minimize air leaks in walls and roofs will make homeowners save up a big percentage in the heating and cooling bills. It is specifically known to be used to seal areas that commonly involve air leaks like plumbing vents, attic hatches, and many more. For careful application and for extra safety precautions to mitigate the foam compounds' potentially harmful effects, it is generally recommended to hire a professional insulation contractor to do it.
For more tips on Spray Foam Insulation, contact Custom Insulation Company, Inc.