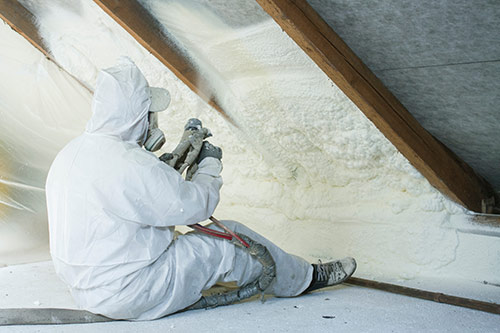 We often do not engage in home improvement projects to save money. Most often, some form of enjoyment of beauty or functional utility is our motivation. Today's topic, spray form insulation, is one that you might not think about to save money. But your should. Improving your home's insulation starts paying you back immediately. Oh, by the way, it also helps improve your inside air quality.
Spray foam insulation is a supremely effective means of keeping your home cool in the summer and warm during the winter. Though spray foam insulation can be slightly more expensive compared to other insulation products, you truly get more than you pay for with this product. It is documented that some of you will save up to 50% on your monthly utility bills. Run those numbers in your head. This home improvement project will eventually more than pay for itself.
Spray foam insulation is not just about the utility bills. It protects your home from moisture damage and strengthens your ceilings and walls. It sticks to the ceilings and wallboards and hardens. This insulation makes your home more structurally sound. In addition, spray foam insulation is the number one to be trusted in protecting your home from moisture and water damage. When the insulation is applied correctly, the entire home will be sealed off from air, moisture, and other elements which you do not want in your home. This is satisfactorily achieved with closed-cell foam insulation. Further, closed-cell insulation creates a complete seal between your interior and the outside elements including heat, cold, wind, and moisture. The good point is this insulation will not soak up moisture like other insulation products, because you will never have to worry about rot or mold.
The closed cell benefit focuses on its R-value of 6.5 per inch. It is waterproof and denser than open cell insulation. The R-value of closed cell insulation shows how well the layer of insulation resists the temperature and the absorbance of heat. The higher the number of R-value the higher its thermal resistance. And to be successful, installation will be done by a professional installation technician for best efficacy.
If you need to hire a spray foam insulation expert, contact Custom Insulation Company, Inc.