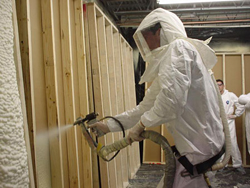 Spray foam insulation protects from both air infiltration and heat loss better than any other standard insulation. Its immediate and long-term benefits and advantages are based on convenience and efficiency; enough to outweigh the initial cost it requires for installation. Spray foam insulation is preferred more by homeowners and contractors because it is easily be installed in comparison to traditional insulation.
Installing spray foam insulation in your home will lower heating and cooling bills. Air-sealing with spray foam insulation improves your homes energy efficiency. This means you will use your HVAC system less often and more efficiently, resulting in significant heating and cooling savings each month. And, since the system does not deteriorate through time, the spray foam also promises long term savings.
Spray foam insulation in Boston and Worcester homes does not only save energy and cut electricity expenses, it also gives your home a comfortable indoor environment no matter the season. Spray foam insulation provides improved air quality because of the air barrier system it provides.
Another good benefit of the improved air quality and controlled humidity in your home is the elimination of airborne particles, reducing allergens in the air. Additionally, the decreased humidity reduces potential for wood rotting and molds. That is why, installing spray foam insulation is the best insulation because it fills even the smallest cracks, gaps or holes at home.
For more information on insulating a home, check out Custom Insulation.