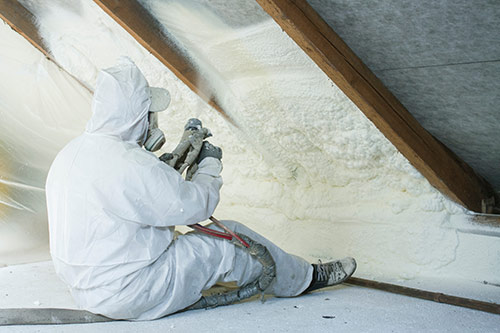 It is well established that spray foam insulation is one of the single best home insulation solutions from both a performance and value perspective. Spray foam insulation delivers exceptional R-value rating which adds rigidity, strength, and moisture resistance to the entire structure. Consumers over the years have done the math. Cost of service less energy bill savings over time equals positive return on home improvement investment.
Close Cell Spray polyurethane foam is at its finest. There are enormous benefits using a foam spray below the slab. Heat loss control is on top of the list, warmer, more comfortable living, and provides a monolithic layer of insulation with no seams or other imperfections in the thermal barrier. As you know, spray foam insulation provides a great air barrier, it also helps eliminate radon gas. It is applied to heating ducts that will run through the attic to increase efficiency and reduce condensation. Spraying closed cell spray foam insulation at all rim joists is a great way to help with energy efficiency. It is the closed cell that makes the material so water resistant. And all these qualities make it an extremely versatile material, closed-cell foam with outstanding air and moisture barrier qualities. It makes your home more comfortable, healthier, and quieter. You will benefit from all the important factors for the health and well-being of your family. It is a cost-effective and smart choice.
Custom Insulation Company, Inc. is a fully licensed and insured spray foam installer, specializing in both open and closed cell forms of spray foam. We offer free consultations and estimates on any size structure. Visit us and learn more about our services and get a free quote today.
For more tips on Spray foam insulation, contact Custom Insulation Company, Inc.