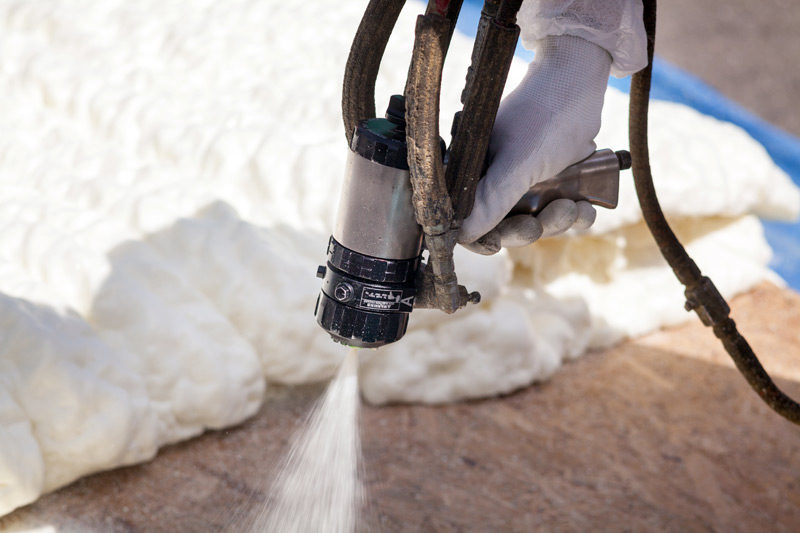 The spray foam insulation in newer homes or well insulated homes will see a reduction in their heating and cooling costs compared to an older home with little existing insulation and homes with fiberglass batt insulation. It is a very effective and energy efficient choice for home insulation and lowers your monthly utility bill.
Spray foam insulation is lightweight and will fill in all the little cracks and crannies. There is no better way to improve energy efficiency and save money on your heating bills than with spray foam insulation. Many people think that spray foam insulation emits toxic chemicals that will be harmful to your health, but as proven by American Chemistry Society it is just a myth and proves otherwise. Spray foam insulation provides an air barrier wherever it is applied to remove air leakage. It increases comfort, reduces noise from outside, lessens pollen and dust. And it outperforms other insulation materials in terms of R-value. There are two types of spray foam insulation, closed cell insulation and open cell. The most used is the closed spray foam insulation because it has higher R-value. It greatly improves your home's energy efficiency. The closed cell spray foam does have waterproofing abilities and acts as a thermal, air and vapor barrier. It offers more structural reinforcement. While the open cell spray foam has a lower R-value and is not waterproof and will not be used on the exterior.
If you are trying to make a decision on insulation, go with spray foam! It is well worth the initial investment. It is one step ahead that creates the highest R-value over any other products as well as creating a monolithic seal around your foundation keeping the moisture out and your house warm.
Contact Custom Insulation Company, Inc. for professional spray foam insulation.