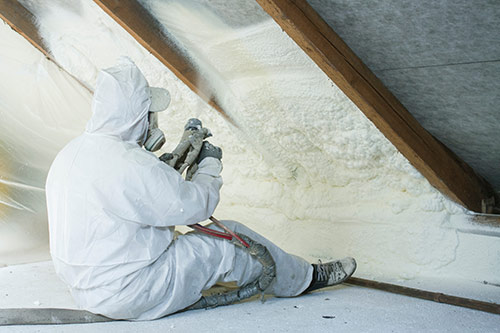 Spray foam insulation as a home improvement project is a strategically profitable investment as it saves you money on energy bills starting day-one. The heating and cooling expenses will be reduced after installing spray foam insulation. It is due to the airtight and heavy-duty foam that expands to fill every space in your walls. Homes insulated with spray foam insulation will be one of the most efficient and comfortable homes built.
Spray foam is getting more popular because of its incredible advantage it offers in every home. The air infiltration coming through the home's walls, windows and doors causes the energy to be intact which insulates better than the traditional home insulation products. The customer normally gets amazed by how much the heating and cooling expenses are reduced after installing spray foam insulation. Once installed, the airtight and heavy-duty foam expands to fill every space in your walls, providing a fantastic insulating barrier that no other type of insulation will offer. Homeowners are enjoying the benefit of this spray foam insulation that lasts for 80+ years if not damaged by water. You will never have to replace it in your lifetime. More so, spray foam insulation has a high R-value which will not decrease overtime. Further, the foam will stay permanently in place and will not shrink or sag over time. It is a fantastic way to add structural strength to your building.
Whenever you have family members who suffer from allergies, they will greatly benefit with spray foam insulation because it will keep pollen and dust out of your home. This insulation will increase the air quality of your home and increase the longevity of all of your HVAC units. Because of a well-insulated home, your HVAC systems will not have to work very hard at all.
If you need an expert on Spray Foam Insulation, contact Custom insulation Company, Inc.