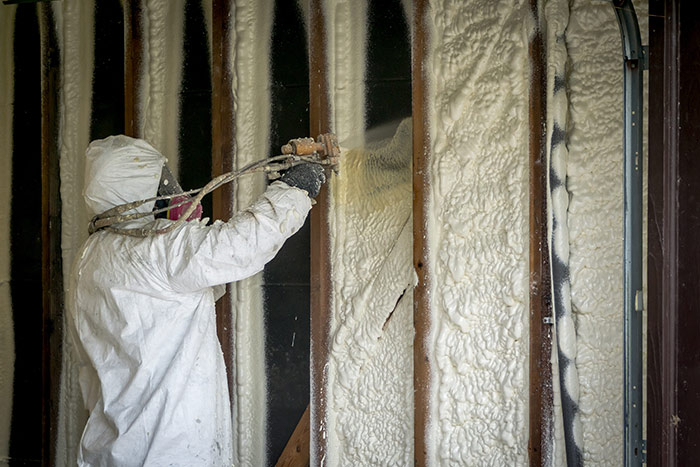 Spray foam houses are energy efficient and resilient. It will reduce the carbon footprint from your home's energy usage, which will help fight climate change. With the recent trend on greenhouse gas emissions (GHG) and climate change, the world is looking for new ways to reduce GHG emissions. And using insulation to increase the energy efficiency of your home is one of the most effective solutions to reduce your energy usage and, in turn, GHG emissions are associated with your home.
This is where spray foam insulation comes in. It is an innovative, multifunctional material used for home and building insulation and air sealing. With the spray foam that creates an airtight building envelope when applied, it prevents unwanted airflow by sealing cracks, gaps, and leaks. This reduces the amount of energy or kilowatts per hour needed to heat and cool your home. And results in increasing energy efficiency and comfort while reducing GHG emissions. Further, with spray foam products that outperform other insulations and air sealing products it is accepted that the life span of insulation of your home is long life. It greatly helps lower energy bills through reducing heat loss or gain, eliminating air leaks, and improving your home's energy efficiency. Survey shows that homes with spray foam reduce energy usage up to 5,638 kwh per year compared to the same home insulated and air sealed with other insulations. This reduces the carbon footprint from your home's energy usage which helps fight climate change.
Energy efficiency is achieved thanks to the spray foam that will be a great money-saver by helping to lower energy bills through reducing air leaks and improving your home's energy efficiency. It is a powerful insulation material with a high R-value of any roofing insulation and air barrier properties that give it the unique ability to fill the gaps and holes that will be difficult to seal. Remember that the higher the R-values mean the greater insulating power and it is created with eco-friendly materials.
If you need to install a Spray foam insulation for your home or property, contact Custom Insulation Company, Inc.