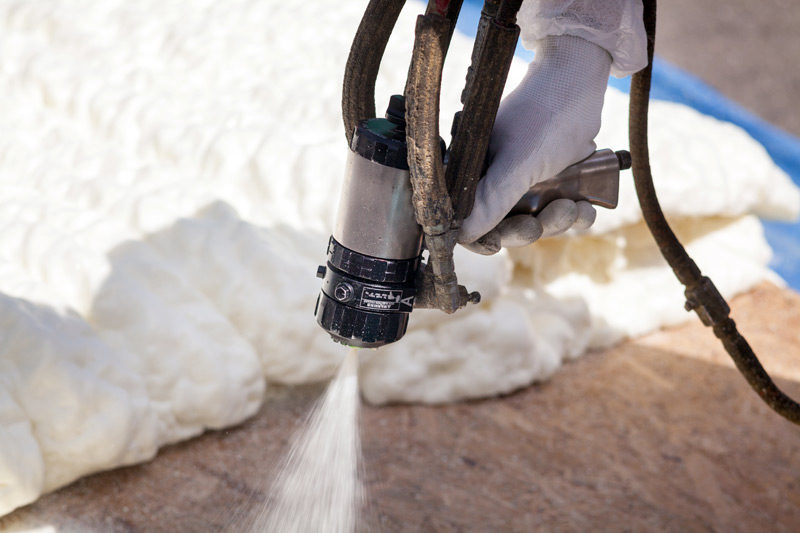 Closed-cell spray foam insulation is increasingly the insulation system of choice by American homeowners. It offers an expansive nature that allows it to tightly seal all nooks and crannies effectively. It has the highest R-value on the market, R-7 per inch. It provides an excellent air barrier and is extremely energy efficient.
Many homeowners prefer closed cell spray foam insulation because it provides an energy savings at an average of up to 50% or more. It is uniquely capable of thoroughly sealing holes and cracks in the attic or crawl space. As you all know, air leaks are one of the biggest culprits of high energy bills. In addition, spray foam insulation is impermeable to water. It thoroughly seals and protects it from airborne moisture and leaks, and it will not absorb water as other materials do in case flooding occurs. Another significant characteristic of spray foam is being composed of an inert polymer, it provides no source of food for mold or bacteria. This makes the home insulated with closed cell spray fully protected from mold and mildews. In addition, being made of inert polymer allows an indefinite lifespan. The insulation will be enjoyed for a long time before needing to reinsulate at an optimal level performance and offering super strength and tear resistance. Further, spray foam is eco-friendly creating a green household. It helps reduce energy consumption and protects against moisture and mold growth resulting in producing fewer consumed materials.
After the proper curing period, spray foam insulation is safe and will not cause any health-related or even structural problems in the property. For great assurance and to keep you at ease, it is highly recommended to call a licensed insulation contractor to install this type of insulation in your home. Our CIS team is fully equipped, highly trained, and experienced crew that will carry out all kinds of insulation jobs no matter how large or small.
For more tips on Spray foam insulation, contact Custom Insulation Company, Inc.