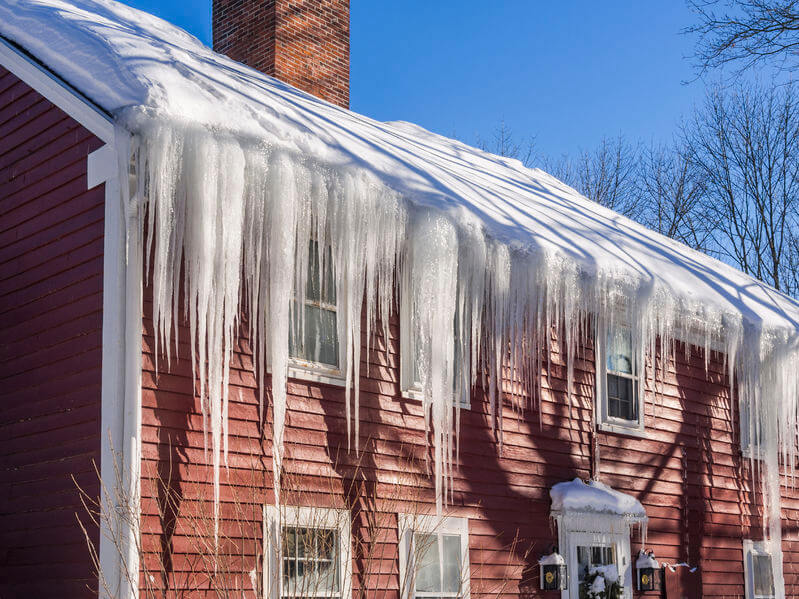 The ridges of ice that forms on the edge of your roof may be pretty to look at, but they are a result of too much heat loss from your home. If you have had ice dams or icicles on your home in the past, don't let it happen again this year because they actually cause significant structural damage. Proper home insulation is the key to prevent ice dams from forming.
Having the right amount of home attic insulation and roof ventilation will prevent the formation of ice dams. Additionally, it will also help lower your energy consumption which reducing your monthly utility bill. Ice dams form when melted snow accumulate on the eaves of a sloped roof and refreezes there. If the roof is poorly insulated, heat that escapes through your roof melts the snow pack from the top down. The freezing temperatures then cause the water to refreeze as it accumulates in the snow on the bottom part of the roof that is not as affected by heat loss. Overtime, melted snow pools against the ice dams, creating larger ice dams and bigger problems. The ice on the roof can cause shingles to lift and water behind siding.
In order to prevent this heat loss, home attic insulation in Worcester, MA must be properly installed. The right amount of insulation will prevent heat from in your home from escaping through the roof, keeping it cold and preventing snow from melting. In Massachusetts, insulation must be at least R-38 or about 12 inches thick.
To learn more about home attic insulation, contact Custom Insulation Company, Inc.