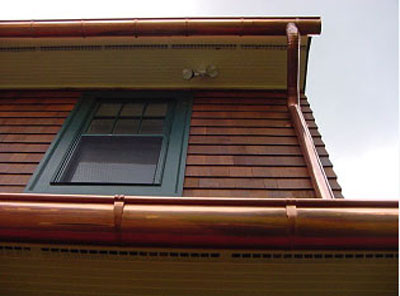 1. Exquisite

Copper gutters can add style and up the curb appeal of your home. The exterior home will look even more elegant with a copper gutter system in place. What's great with this material, is that as copper oxidizes over time, it will create a coating that will turn dark gray, and eventually, it will change to a pretty green hue or patina. A lot of homeowners fancied the stately appeal that a patina copper gutter creates but if you want to stick with the natural color of the gutter, sealants can be applied to protect it from oxidation.
2. Durable
Copper gutters are not prone to rust that's why they can last for a long time. You may only need to install it once in the life of a home. Other materials can easily corrode in a matter of a few years. Since gutters are exposed to various environmental elements, it's better to choose a material that is tough to defy these factors.
3. Low Upkeep
Aside from being resistant to rust and decay, it has algaecide and fungicide properties that prevent moss growth from forming or obstructing the system which requires regular cleaning. Moreover, the patina that forms over time is not only pleasing to the eye but they also serve as a protectant from corrosion. Furthermore, the copper gutter system has built-in protection systems that help minimizes the need for frequent upkeep.
4. Flexible
Another great characteristic of copper is it has a low thermal coefficient of expansion. They don't easily crack over a slight motion caused by thermal expansion, unlike other materials. Consequently, this extends the gutter's lifespan and lowers the need for upkeep.
5. Eco-Friendly
Copper is a natural metal that is very sustainable. It has no negative impact on the environment. It can be recycled repeatedly thus, this precious resource won't deplete. It is gentle to the environment and safe to use.
To learn more about the copper gutter system, contact Custom Insulation Company.