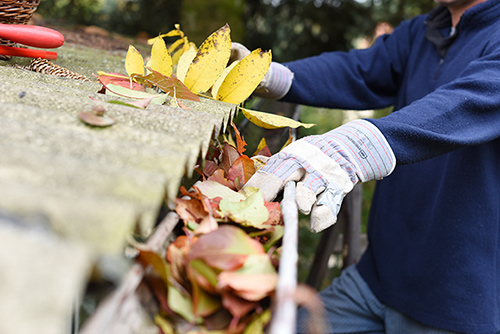 Custom Insulation offers The Waterfall Gutter Guard System as a way to protect your seamless gutters from debris and the need to clean your gutters. If your home does not have this gutter guard system, it's that time of year when a second gutter cleaning is almost always needed. New leaf debris and recent high winds can cause leaves, pine needles and debris to clog your gutter causing potential rainwater overflow, but more important, damaging effect to your home's foundation. In turn, this can cause landscape erosion and water damage to your home.
Here are some gutter cleaning tips to help you get the job done both effectively and safely:
Ladders: Always let someone know you will be using a ladder to work on your gutters. Use a safe and sturdy ladder, with a small shelf strong enough to hold a five-gallon bucket to collect the debris from the gutter.
A four-legged step ladder for a single story home or an extension ladder for a two-story home is recommended.
Hose nozzles: Use a garden hose with a pistol-grip trigger spray nozzle. This type of spray nozzle allows you to adjust the water pressure with one hand. This style of hose nozzle allows it to be easily hung over the front edge of the gutter while you move the ladder.
Wear Gloves: Gloves can help protect hands against dirty, rotting leaf debris that are often ridden with bacteria from wild life.
Rake the Roof: From the ground, rake all branches and leaves off the roof first. Otherwise, the next rain will wash all the debris down into the clean gutter, clogging it up again.
Tired of cleaning gutters, or hiring others to do it for you? We don't blame you; contact Custom Insulation for information on our Aluminum Gutter Guard System.