Many winter fantasies revolve around a crackling fireplace. Perhaps you're sipping hot chocolate with the kids and talking about snowflakes. Maybe you're even roasting marshmallows. Or, maybe you're cuddled with your honey by the light of the glowing embers. It's a beautiful scene, isn't it? Make the fantasy a reality with our top quality Lennox Fireplaces. We have couple different types of fireplaces to keep you warm through this winter season, but we'd like to briefly talk about our Montebello gas fireplace .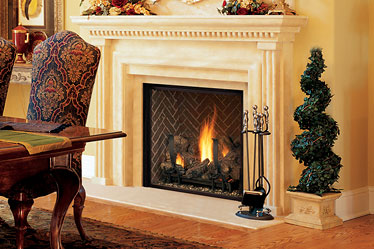 Gas fireplaces replicate the look and feel of wood fireplaces only there requires no wood logs to chop or purchase. These fireplaces are easy to operate, as they are activated by a wall switch or remote control. Gas fireplaces produce cleaner flames, leading to less air pollution. Gas fireplaces also have stunning looks that are located in an optimum manner to maximize the comfort they deliver. The designs are minimalistic and sleek, so these fireplaces do not take up much place by themselves.

Today's gas fireplaces have the look of traditional fireplaces. Fireplaces are available in a wide variety of styles, including traditional masonry and more contemporary looks. The Montebello has a clean-face design that is smooth and elegant, reminiscent of a classic masonry fireplace. The instant convenience of Lennox gas technology gives you total control of your fireplace and its heat output. Plus, the Montebello is available in two sizes with an array of premium accessories to give you the freedom to create the fireplace that fits your style and your home. Contact us today to learn more about our fireplaces. Also be sure to check out our insulation methods to keep your home warm during the winter and cool during the summer!