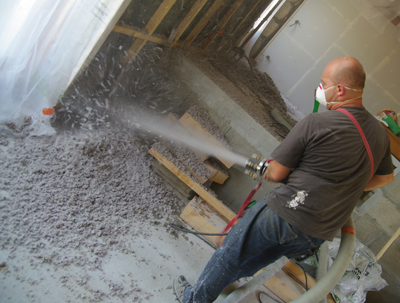 One of the single best value-based home attic insulation solutions is wet spray cellulose insulation. This is tightly packed cellulose that gives a thermally efficient and comfortable solution and at an affordable cost. It is considered a shining example of the best insulator of any product on the market.
Since cellulose is made of recycled newsprint, it is green, non-toxic and eco-friendly that is worth considering. It is commonly used for attic and other areas of the home as well. It is considered a superb air-blocker. As the case when the heat and comfort are lost through convection just like when air stream currents are within the house, the wall cavities or attics normally move heat to other locations. Further, it is becoming more familiar and sought after nowadays because it is safe due to the chemicals used in order to protect cellulose from fire resulting to be corrosive in wet environments. In addition, the quality of the installation is critical in order to be efficient in its function.
In every home, thermal protection is highly essential in giving more concern. With cellulose insulation, it controls durability, reduces cost of operation and highly provides homeowner comfort. More so, many people claimed that the superior air-tightness and absorbing qualities of sprayed cellulose provides a quieter indoor environment.
For more tips on wet spray cellulose insulation, contact Custom Insulation Company, Inc.