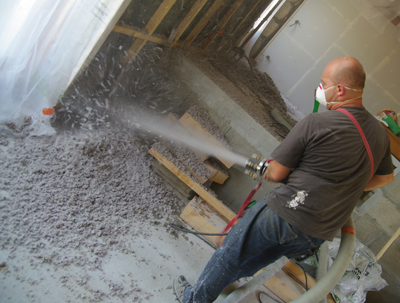 Wet spray cellulose insulation has a number of advantages which makes it an appealing choice for many homeowners. Cellulose is a material made from recycled paper products such as old newspapers, cardboard, and other types of paper refuse. It is also available in wet and dry options. Since it is made from recycled paper products, it is an environmentally-conscious option for homeowners.
Wet spray cellulose insulation in Worcester, MA is an inexpensive option of insulating a home compared to spray foam. As the name implies, it is installed while the cellulose is slightly damp. Wet spray cellulose is treated with an acrylic material to bind the papers together and to ensure that it settles when installed. Before installation, cellulose is treated with boric acid to make it more resistant to fire, mold, and insects. In addition, cellulose insulation is cheaper and has higher R-value compared to fiberglass insulation.
Wet spray cellulose insulation is best installed by an insulation specialist in order for it to be installed properly. Cellulose is blown in an enclosed cavity under heavy pressure. This is why knowledge, skill, and experience with specialized equipment is needed for perfect installation. With proper insulation,homeowners can save on heating and cooling costs.
To find out more about wet spray cellulose insulation, contact Custom Insulation Company, Inc.