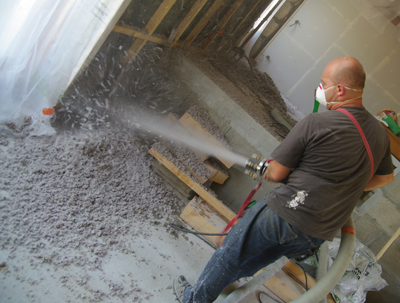 Wet spray cellulose insulation is very popular for because of it's effectiveness as well as for it's low cost. The thermal resistance and air sealing benefits of cellulose is comparable to fiberglass. However, cellulose is very inexpensive because it is made from shredded paper products and low cost binding agents. The binding agents are safe and provide superb resistance to mold formation, pests, and fire.
Wet spray cellulose insulation in Boston, MA uses water during application and is slightly damp when it is sprayed into the wall or attic cavities. When blown in with the installation machine, cellulose flows around wires, pipes and electrical fixtures, eliminating air pockets and restraining air transported heat loss. It air seals the wall cavity and provides added structural strength with outstanding thermal and sound retardant properties. Since cellulose is made from recycled paper products it is considered a green alternative for insulating homes.
Wet spray cellulose uses water during the spraying and application process, and it is very important that the mixture is blended precisely. Too much water can cause the material to sag and pull out the cavity while too little water can be too dry making it difficult to activate the adhesive so that it doesn't stick to the cavity walls.
To find out more about wet spray cellulose insulation, contact Custom Insulation Company, Inc.