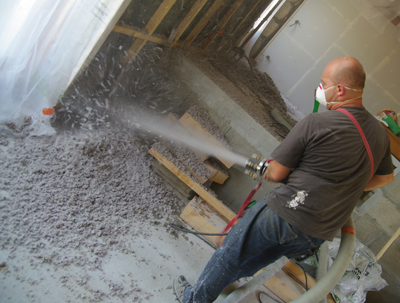 There are many types of insulation for your home. Although efficiency and effectiveness must top the list, budget must also be considered when deciding the insulation to use. If you have a limited budget, wet spray cellulose insulation is an excellent choice.
Wet spray cellulose insulation in Worcester, MA is equally effective in air sealing as compared to spray foam insulation but it is a more affordable option. It has the same level of air permeability offered by spray foam and provides cost-conscious homeowners with splendid results for a fraction of the cost. This is because with spray cellulose insulation, only shredded paper or other recyclable material and water mist are used to fill holes, gaps, voids, and corners. This insulation serves as an ideal barrier against cold weather and enables homeowners to fully control the temperature indoors.
With the help of wet spray cellulose insulation, heating systems do not get overworked trying to combat freezing outdoor temperatures. This also helps reduce monthly home energy consumption. To find out more about spray cellulose insulation, contact Custom Insulation Company, Inc.