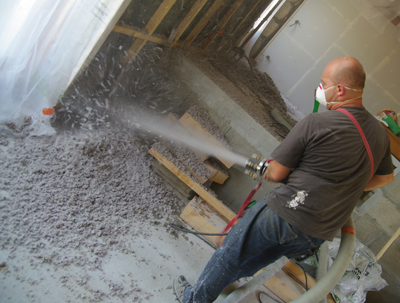 Although you need to settle with the best quality home insulation, you need to explore your options so you can find one that both meets quality and your budget. While spray foam insulation is the most popular requested insulation, it may or may not be the perfect insulation solution for your situation, requirements, and budget. For those on the tightest of budgets, wet spray cellulose insulation might be a good candidate for you.
In certain situations, wet spray cellulose insulation that we deliver to Worcester, MA and beyond can deliver similar overall insulating effect as compared to spray foam. Wet spray cellulose insulation is composed of shredded paper and other recyclable materials. It is sprayed to fill openings, voids and crevices exactly as spray foam is done. It's an excellent insulating material that comes at a lower product cost. The real difference is longevity of product effectiveness. So if you envision moving on from your current house within the next few years, you will recoup your insulation investment via lower utility bills faster than other longer-lasting solutions.
Here's the important thing to realize. Any home insulation project will pay for itself over time. Our job is to insure that you choose the best product and value for your specific circumstance. For more information about your insulation options and the associated energy cost savings that you can expect, contact Custom Insulation Company, Inc.