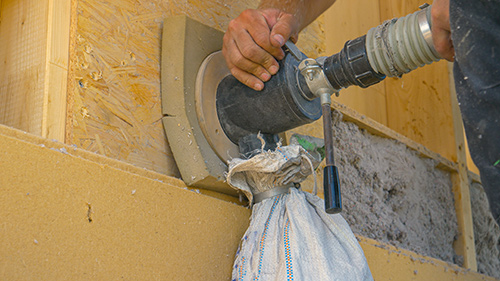 Choosing the type of insulation you use at home can make a lot of difference in your monthly energy expense. Below we discuss reasons why blow-in insulation should be a top consideration for your next home improvement project.
Tighter fit
We know that the tighter the fit, the better insulation works. Blown-in insulation makes a tighter fit than traditional insulation, squeezing around all the tight spots that other insulation materials miss. This way, tight corners and chinks are sealed.
Moisture prevention
Any tinge of moisture is bad for insulation. But there's nothing to worry about. Because of its tighter fit, blow-in insulation solves this problem, keeping moisture from seeping into it.
Noise reduction
Another benefit of a tighter fit is that it reduces noise between rooms which is great for varied reasons. This is perfect if you have playful children at home. You won't need to tell them to lower down their voices or the volume of their music because you won't hear their noise anyway.
Energy-efficient
Blown-in insulation does not fail in making your home warmer during winter and cooler during summer. This way, you do not anymore need to use your HVAC controlling system more often, thus lowering your e-bill.
Environmentally friendly
Since blown-in insulation is made out of recycled materials, then you serve the environment with two great things – you conserve energy and save natural resources. Plus, it is inert, non-toxic and fireproof. What more could you ask for?
Saves Money
With all those mentioned above, nothing beats blow-in insulation when it comes to saving money. It is not your least expensive option, but with that said, installing this material will save you hundreds in the long run. It prevents you from spending for frequent replacements.
So, if you're thinking of replacing your old insulation, or building a new home in Sterling, CT, do not forget to check out Custom Insulation Company. They can offer you great deals with benefits that are far too great to neglect.