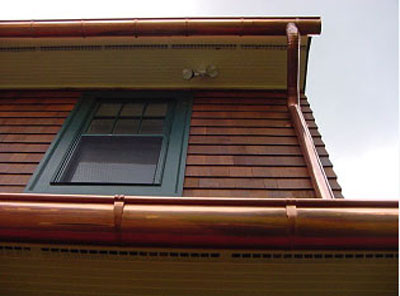 Some homeowners don't pay particular attention when deciding what materials to choose for their gutter system, but they should. Gutter systems do not perform the same from both the functional and economical standpoints. Since rain gutters protect your home's foundation from costly water damage, it makes perfect sense to invest in the toughest, highest water processing, and best value gutters. Copper gutters should be strongly considered.
Copper gutter systems are comparatively more durable than any other gutter material. They can last over 50 years or more with only minimal maintenance. Copper is resistant to corrosion and it rarely dents, cracks, or sags despite direct exposure to constantly changing weather. Copper gutters also offer a unique and rustic look. Overtime, it forms a patina over the surface which enhances its look with age.
The initial cost of a copper rain gutters in Worcester, MA will be slightly higher than traditional aluminum gutters, but as it applies to every commodity that we purchase, you get what you pay for. If you consider the durability, lifespan and convenience that copper offers, you'll find out that this option pays off handsomely in the long run.
For more information about copper gutter system, contact Custom Insulation Company, Inc..