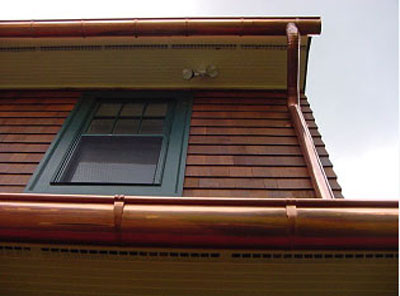 There are several rain gutter options available in the market. For some it's hard to choose the best type and the best company to deal with. While gutters made from wood or plastic are invented for specific purpose, gutter professionals advise that copper gutters as the resounding best option for all areas and styles of homes. Here are the key benefits of copper gutters:
Gives your property an enhanced look and elegant, vintage touch.
They match well with any architectural home style, whether rustic, traditional or contemporary structural design.
They are durable and can last for more than a hundred years even when situated in areas that are frequently experiencing acid rains and smog.
Only yearly cleaning and minimal upkeep service is required.
Copper rain gutters don't rust. Overtime, a green patina will form around the metal after long exposed to air and moisture. This will help protect the metal from corrosion while it provides a vintage look to the home.
It is malleable and can be customized to form based on the property's dimension or owner's desired shape and design.
Special equipment for seamless installation are used. So expansion joints are no longer needed during assemble. This means leakage issues are reduced.
Copper gutter systems simply present the best performance, longest lasting, and overall best value for your gutter dollar. Contact Custom Insulation Company here in Worcester to learn more about your gutter options.