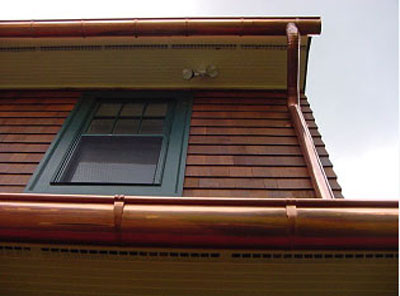 The gutter system is one way for homeowners to ensure that water damage is prevented because the downspouts are set up to direct water away from the foundation. This is why a properly installed gutter system is an important feature on any home. While there are many options of gutters for residential applications, many homeowners choose seamless copper gutters.
One advantage of using seamless copper gutter in Boston, MA is the lack of seams, which prevents leaking. But, almost as important to the homeowners who choose copper is the aesthetic value. Copper gutters are very attractive and dramatic and can enhance the style and design features of any home. Overtime, copper takes on a patina effect changing the color and sheen as it ages and a lot of homeowners find this effect beautiful. This patina effect gives the gutters a more rustic look, that cannot be found on other gutter materials.
The copper itself is also low maintenance. For homeowners who want a gutter system that does not take much work, copper is a great offer. Copper is a natural algae-inhibitor. This means that algae, moss and mold do not grow on seamless copper gutters. It is a practical investment and the installation costs can be redeemed overtime through the lack of maintenance costs.
To find out more about professional copper gutter installation, contact Custom Insulation Company, Inc.