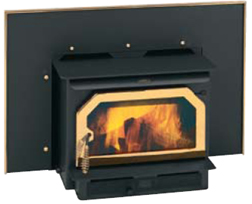 Wood burning fireplace inserts provide efficient, clean-burning and reliable warmth for your home. If you live in the Worcester area and are looking for a way to better heat your home this winter, consider a Lennox wood fireplace insert.

Lennox makes the perfect wood burning fireplace inserts to meet your home heating needs. Available with an array of door styles and finishes and powerful heat circulating blowers, wood burning fireplace inserts can be customized to suit your individual needs and tastes.

Every Lennox wood burning fireplace insert is built with premium-grade materials and the utmost commitment
to quality. Innovative technology and designs make Lennox wood-burning inserts among the most beautiful, efficient, reliable and environmentally friendly products on the market today.

The Lennox Performer wood burning fireplace insert offers increased heat output and easier loading. For moderate heating needs, this fireplace insert is the smart and efficient choice. Available with your choice of an Arch or Traditional door in a variety of finishes.

Contact Custom Insulation Company for more information on wood burning fireplace inserts.