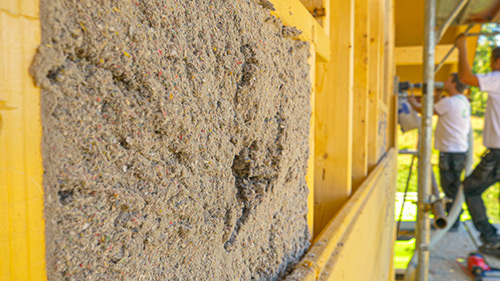 It is time to say goodbye to energy waste and say hello to savings with Custom Insulation's blown-in insulation service who serves all across Connecticut. We deliver affordable and high quality blown-in insulation services to Hartford, New Haven, Stamford, Bridgeport, Danbury, and Greenwich business and home owners. Here are just a few of the key reasons to consider blown-in insulation and Custom Insulation Company as your trusted service provider:
Igloo Cellulose Isolation is a premium, all borate cellulose insulation.
Proven Energy Savings
Non-Irritating to Skin, No Health Problems
Cellulose insulation is blown-into your home by using two holes in every wall bay ensuring each bay is 100% full.
Increase the value of your new buildings and existing homes. Significant Sound Barrier and Moisture Control
Custom Insulation Company's teams of insulation specialist will quickly and effectively handle your installation, on-time and done right.
Custom Insulation Company's Project Estimators will provide you with a free written proposal for your building or remodeling project.
Check out the stellar five-star rating history with Google, then give us a call. Quality and value insulation service is simply a phone call away. Contact Custom Insulation Company, Inc. anytime!