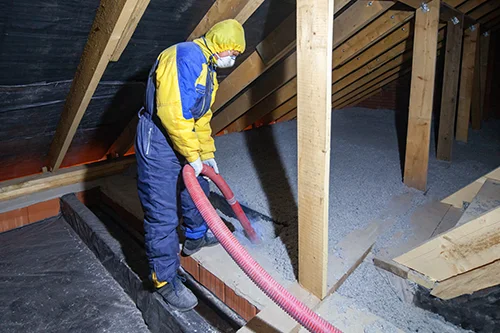 When your home's energy efficiency is in need of recharge, blown-in insulation is a clear winning choice both for your family's comfort and your wallet's health. Blown-In insulation is celebrated for cutting home heating and cooling bills by 20% or more. We encourage you to do that math and calculate how fast this insulation technology can pay for itself.
Cellulose Blown-in insulation is installed based on its name after its application. It works on filling stud or joist cavities or covering an attic floor with a chosen loose material. Once prepared there is a one team member that will use a blower hose to spray the fluffy insulation material across the floor and into cavities. Moreover, we will feed the insulation material into a unit below the attic or outside the home. The spreading continues of the loose fill paper-based product until the cavities are filled or there is an even coating of the wool across the attic floor to a certain thickness. The blown in insulation is flexible and it will be installed into any attic space, and it will insulate the living space below. More often, blown in attic insulation proves to be far more cost effective than faced batts, fiberglass is non-combustible, and is resistant to pests. Worth mentioning that fiberglass does not make a great home for rodents, birds, and insects, and is resistant to moisture and mold.
In addition, blown-in insulation offers a noise-cancelling effect which is beneficial to the homeowners. It is more airtight compared to batts and rolls which it will get into the tiny nooks and crevices in your attic where heat and cool air typically escapes. It will only take a day for an experienced team to install blown insulation and it will be completed with minimal mess.
For more tips on Blown In Insulation, contact Custom Insulation Company, Inc.